~ John Lee Hooker ~ Santana ~
Every now n then, not often, I treat myself to one of those muzakynthos nightmares such Santana's prissy pure vibrato 'n' cutesy Karibbean bongo beat getting together with John Lee's growly vox profundo.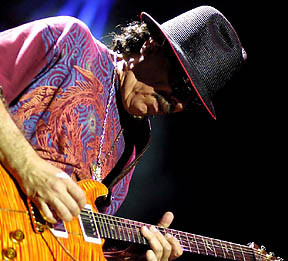 This is one of my exemplary apogee favorites, a satirical fretting of a tongue-in-cheek parody of what it might sound like if some honky marketing whizz dared shove them in the same studio.
Blues pa ti.