BABYSITTER ~ Chains
To quote the Telegraph caption:
"A Chinese man has come up with a shocking solution to the problem of childcare - by chaining his two-year-old son to a pole while he is off at work.

Concerned passers-by spotted the distressed youngster chained with a padlock round his ankle to a lamp post outside Huaguan Shopping Mall in Beijing. Meanwhile, his father Chen Chuanliu, a pedicab driver, was several metres away touting for passengers."
Hmm, I know a few places where cabbie dad would have returned to find a posse of concerned persons who had not passed by but waited for him to finish his shift and then taste some of his own chain-mail justice.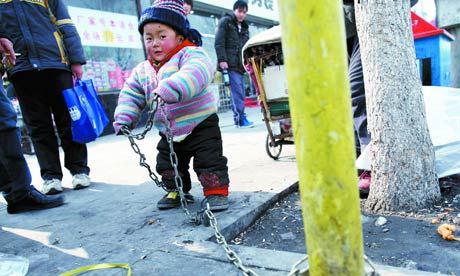 But look at that grinning bastard in the red gear in the background above the poor kid. If you ask me, he too could do with a dose of whuppin' ~ see if he finds *that* so funny.
Always another side to a story: Chains of Lurve ~ sing it, Ray, Take these chains (from my flippin' ankles).