GIVING IT UP
I haven't heard that phrase for soo long but at last night's surprise impromptu private-ear gig, an American Julia Gillard look-alike [sounded a bit alike, too, on some of her hairpin vowels] insisted I play and made it impossible to say nay by pointing me out by the vodka bottles and asking the assembled to
"Give it up for your very own Chris Holmes - yaayy rah, come on down, Chris, and strut your stuff."
Actually, it was just a lounge lizard's smug shuffle across the Axminster and a breezy wave to a row of strangers, but you know what Americans are like when they get abroad.
LA GILLARD ~ yes, indeedy. Ooh I crave her, yea even unto the grate of that flat Ozina tongue and the pointy nose. Pure suicide, as it would be if I could fall foul twixt the sheets of that Martha Stewart. Shudder, shuffle to cold shower.
Good excuse, I thought, to include a photo of Dai Gillard (or is the feminine Diane?]
Loipon Struth!
To the left, the gillette-nosed Gillardine who stalks my kinkiest nightmares.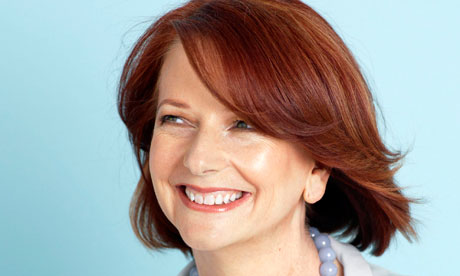 But look at the cutie pie to my right ... talk about Melt-resistant butter. Bet that gave you a shock, too.
Anyway, there I was in a classic Saturday nite blog post too short to cut long and this is the back-story, as they say on CNN.
Digression ~ did you notice my throwaway 'Loipon Struth' coinage? Deuced clever what surfaces in a Grade A hangover. Great name for a group. Play around with it, why don't you?
Loipon and the Struths
Loipon LeStruth [moody pretentious solo chanteur, dislike him already]
"I wrote this next one on a Greyhound bus out of Centreville, Montana ..."
No, you didn't! You was on platform 3 waiting for the Northern Line out of Clapham Common. Don't frigging lie!
(Ain't easy living the blues sporting a British Council tie.)
Anyway, moving on, there I was chatting up this Gillardian sheila and I let slip that I *had* done a sort of concert recently but it was a total cockup because the acoustics down the kirk are atrocious and it was hotter 'n the Mojave that day.
Damn'd shame because I had to delete half the good stuff i'd rehearsed, including my 'churchy' chanson that i had down pat and had some verses I'd written special like for some special people.
Verse 2 was meant to sound dylanish and bring a smile to the cruel lips of Rambling Jack Potts.
The lines about 'coming down, babe', leaning against me, and legs to down the Holy B were intended to be sung with deep adoring unflinching gaze into the unnervingly beautiful eyes of Caroline 'Jackpot' Philp of Kyma fame and genius.

Gone! The opportunity missed.

Which is when she took me by the hand and said,
"Well, here's your chance to sing it here for us."
, at which point I realised I'd forgotten most of the words. Tsk.

Fifteen minutes with a spiked JD and Coke, and i was ready to rock, and if i ever get the chance to sing it for real, I've got it here as an aide-memoire blog post.

View of the cross

"Too many pulpits, not enough priests
Too many injuns, too many chiefs
Too much taking for granted my Father's forbearance
With all my moaning and grief:
Something tells me, I've lost my view of the cross

Mister MoneyChanger, with your coats and your ties
To the bright lights no stranger, where the women writhe
You sent your boy to the best schools
Your friends all found him jobs:
My Father sent his Only Son to the Cross.

Chorus ~ Dont block my view of the cross, mister, let your faith shine thru
It's the only view I've got, sister
How Jesus died for me and you,
Come on down, girl, won't you sit by me
I'm just a lonely sinner praying on the Lord's mercy
I thought I was the bee's knees, I thought i'd won the toss
I shoulda read the small print on the cross

Extra cool, 1-time only verse, zooming from 3rd-fret G, holding the chord up to the 8th to make C and then zooming back down; killer glissando:
Walking in the Garden of Gethsemane, in the cool of the day
No hicksters no tricksters no enemies,
Or that's what the Good Book says
But they pinned him to the nearest tree so he could end his day
With a view, you get a good view from the Cross
Verse: Did you hear the cock crow? Thrice on the dot
Did we *know* the Galilean, of course we did not.
Peter's face in the firelight, talk about guilty and lost
Now there's a man with a topsy turvy view of the cross
Chorus: Dont block my view of the cross, brother,
there's a green hill far away
Jesus said to love one another
Or look pretty foolish come judgment day
[burning look over at CP] Lean against me, girl, say you love me too
You dont have to mean it, coz I'm so crazy 'bout you
A woman like you at a good man's side, Gates of Heaven open wide,
Gabriel blow his trumpet and in you glide
A one-woman view of the cross
verse - Morning has broken, harsh words been spoken
New sermons smokin' all over town
I like her style, I crave her smile
I fear her good-Greek-wife-frown
And the legs on that woman (sigh snort)
Make a preacher lay the Good Book down."
Man! I've just played it again and it rocks! Wouldn't be surprised if Le Bon Dieu stops me at the Gates with a
"You! Sing that Cross song you never did that time. Pete, give him one of our Gretsch-Fender harps and have the seraphims doo-wah inna background. Yo, Huddie, down that hammer and git yo' ass over here and strum along with newbie Charles here."
Christopher, actually, Your Godliness.
'Whudever. Take it, boys, and there's barrel of Nectar over at the bar if you sing it good.'