iPad
It used to be I'd wait 'til I read clever Gary Trudeau's Doonesbury before I knew what to think about anything.
Then I spent 8 cubicled years in the Dilbertian wilderness, so that was two masters ...
Now of course it's Hitler as he barks the Meaning of Life, and what more natural and inevitable than, mere hours after Apple's unveiling of its iPad solution, Adolf delivers the final verdict (not good, I'm afraid).
I mean, no camera??

NO. FRIGGING. CAMERA?

Duuude ...
Well, take your own gander.
I'm also waiting to hear the *next* informed opinions which will come from my former galley mates on the Good Ship Bezosia - brilliant brilliant techie geeks every one and not a few stunners among them.

In those wild west days when the world of online commerce lay at our feet, so did quite a few hotties as they pulled all-niters writing genius tools that'd be ready for use by the reps next day, often actually saving that day as management huffed and puffed and covered their asses by taking forever to sign off on stuff we went ahead and used anyway.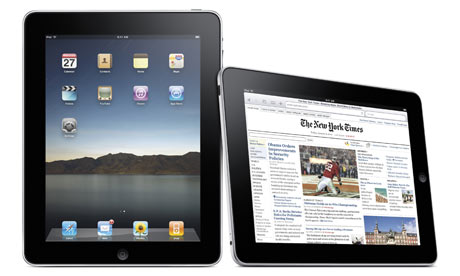 The form in those pioneering days was to sleep under your desk. Often, heading my weary way home to the connubial couch, I'd be stepping gingerly over an ever-changing permutation of protruding feet, trying furtively to identify them so as not to make too big a boo-boo a few days hence when a new pair had taken their place.
That is such a huge digression I can't work out why I wrote a single word of that last point, but I'll leave it in in case it reminds me.
Perhaps I wanted to segue into my own ungeekliness but got distracted remembering all the great sex around in those days - yours truly a notable exception.
So I need to read chaps like Aaron Vronko to know what The Pros think of it.

Again, not much, it seems: CEO of Rapid Repair, an iPod and iPhone repair shop, Ivan gets even more detailed and zaps the four big iPad "whiffs".
Unlike the Führer, however, I will not object to anyone 'gifting' it to me and reassure everyone it'll be perfectly OK to backdate this bijou cadeau to Feb 4 (hint, hint)
The feckless faffing Stephen Fry has to get in his techless Twit' twattering