RAG-HEAD ~ SOOTY ~ SANDHURST ~ HOUSEHOLD CAVALRY ~ BROWN VAZ ~
Oh for God's sake, if a chap can't take a bit of rag-heading while he's a cadet, lawd help him when he gets out and plays grown-ups.
Mr Mohammad 'Paki' Yaqoob Khan d'Abassi should keep his trap shut and know better than to abase himself butting in to help out fils Lieutenant Ahmed 'Paki' Raza Khan.
The video's three years old, and Prince Harry is facing disciplinary action? And this is the modern Sandhurst, turning out babies who can't take a bit of joshing?
I trust that 'Paki' Raza (as we fondly refer to him in the junior mess) carries the distinctive handle for the rest of his days: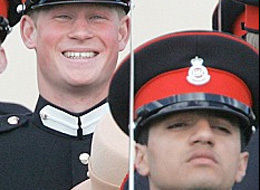 "I say, who's that rather distinguished looking ... erm ... tanned gent talking to Lady Maureen?"

The Paki?

"Well, yes, since you put it that way."

That's Major General Ahmed 'Paki' Khan.

"Ohhh, the chap who-?"

The very one. Damn'd fine fellah - terror on the polo field. Come on over, I'll introduce you ... Pakkers old boy, like you to meet an old golfing chum of mine.

And so forth.

Here's the culprit video, hawked by a worm to the disgusting NoW. Notice how politely fluently Harry troubles to pronounce 'Paki' Accchhhmed's name - and how rude he is about the RSM's orders.

Cant and Moral High Ground
: The always forthright Iain Martin speaks for England.