~ Corcyra Gassings ~
Cook boss: Quoth Manny Fontenla-Novoa:
"If it means that proper justice can be done, then that is fine and we will do everything we can to make sure it is done. But I mean proper justice must be done, not just political justice."
How it works out in straight cash.
Neil Shepherd ["youngsters' grieving father"] ~ £2.6 million compensation
Sharon Wood [children's mother] ~ £2.1 million "for trauma"
Both sets of grandparents ~ £1 million
Also in that £1M, Neil Shepherd's beautiful new 'partner' - and I don't know why they can't call her his new wife, FFS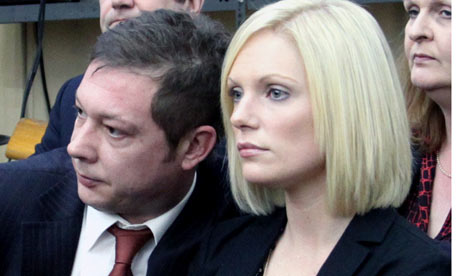 Her name now is Mrs Ruth Shepherd - got it? - née Beatson.
That's her over on the right looking serene and glacial.
That's also her on the left, even glacialer which is what this blog is all about - that and any name calling such as dubbing the docking of the reps a farce [see below].
THE LEGAL WEASEL STUFF:
A Greek court is hearing criminal charges against two Thomas Cook reps and a number of Greek nationals connected to the hotel.
Richard Carson, 28, and Nicole Gibson, 26, the two Thomas Cook reps, are accused of manslaughter by negligence, a charge that carries penalties of up to five years in prison.
According to lawyers, the family "from the children's grandparents down" have their names for parallel civil proceedings.
Neil Shepherd has launched civil proceedings against Thomas Cook and the Cypriot owner of the Louis Corcyra Beach resort where the accident happened in October 2006.
The safety issues: The hotel's licence was revoked after the accident but reinstated a few months later after the gas-fired boilers were replaced.
Thus spaketh the Beak: According to the presiding judge, Petros Molydvas,
"This is one of the most difficult cases ever heard in Corfu ... It is such a great tragedy."
By 'difficult' I presume Hizzonner means agonising heart-tugging tear-welling anguishing, not Gordion Knot difficult from the legal niceties point of view.

Tragedy and Farce: Leading travel wallahs brand this whole brouhaha a farce.
Cosmos overseas director Hugh Morgan: "The hotel rather than Richard Carson and Nicola Gibson should be held accountable for the deaths."
Abta chairman John McEwan: "The blame for the tragedy is in Greece, not with the reps."
Check out the 'Support Richard Carson and Nicola Gibson' facebook group started by TTG.

Previous posts passim
Worst installation in 50 years ~ Outside mechanical engineer said the leak was caused by a wired-out gas valve, a bypassed thermostat, the lack of a flue and chimney, and a gap between the family's bungalow and the outhouse where the boiler was contained.
"The parts that should have been fitted were on the floor - the flue that should have been fitted in the top of the boiler was on the floor."
The Personal Injury Blog - Well, there would be one, wouldn't there?
Kim Harrison oozes in to the subject in 'Industrial Disease Claims', reminding us of 'the horrific deaths of two children killed by carbon monoxide poisoning' before reassuring us that she is
"a solicitor who acts for victims of carbon monoxide poisoning [and was] extremely shocked and saddened by this story."
A bit more schmaltz about hoping "that no family has to go through what this family has over the last few years" and then zap to the money shot:
"If you have suffered similar illness / sickness recently then we would be very interested to hear from you.

Call our travel litigation/disease solicitors during business hours and a specialist holiday accident, holiday illness or holiday sickness claim solicitor can review your compensation claim for free while you are on the phone."
Thos Cook's "Duty of Care" ~ Thus the mother in this tragedy. Sounds like a cooked-up term from a wordsmith legal beagle.
What I wonder is, if in the children's room "a chimney to bring in oxygen and remove carbon monoxide had not been fitted and was lying on the floor, along with a piece of rock propping the boiler up" - what, just lying there on the floor? - why FFS didn't the father and step-mother-to-be kick up some kind of fuss, if only to protest at the junk just lying around and hindering the children's scampering.
you know, I'm the sort of person who reads reports and feedback closely and with an assumption of accuracy. The moment a story starts unthreading, I wonder at the accuracy of everything else and then I start wondering at the veracity.
The beat goes on: In the red corner, Catalogue of Failings in Installation and Maintenance ~ Worst installation in 50 years ~ Wired-out gas valve, bypassed thermostat, lack of flue and chimney, gap between bungalow and boiler-container outhouse, gaps in unfinished air-conditioning pipes VERSUS "Unique and unforeseeable" accidental, not the fault of Carson or Gibson.
The honest stalwart who pronounced on the installation was Harry Rogers, Englishman and retired mechanical engineer. All that 50 years quip tells us is that Mr Rogers hasn't spent much of his retirement outside the UK. That cocktail of errors and omissions read rather routine to me, which tells you how much of my retirement I have spent *in* the UK.
Well, that doesn't look too friendly for the reps.
Catalogue of deadly errors ~ Now MSN reports this 'catalogue of errors' line as put out by Harry Rogers.
And I ask you again, how on earth were Neil Shepherd and his beautiful Ruth able to enter the doomed children's bedroom without wondering why the boiler parts "that should have been fitted were on the floor [and] the flue that should have been fitted in the top of the boiler was on the floor."
That is a lot of floor space being taken up by boiler parts and any parent should have questioned their very presence on the floor as a hazard, let alone their absence hampering the performance of whatever machinery they should have been safely in. It does not make sense and therefore I call in question everything else being trotted out.
April 21 adjournment - the beat goes one and mark yer calendars for an après-Easter front seat at the stop-start-er-hold-it-everyone-no-here we go again trial of the season.
I like the bit about worst plumbing in 50 years but I still say:
If there were bits of boiler strewn around the room, wouldn't the maid have made some effort to have it cleared away?
Why wasn't the first thing Neil (dad) and Ruth (beautiful girl-friend now wife) said "Oy! The view out the window's not bad but WTF is all this crap on the floor? The kids could cut themselves. Very dangerous."

It seems the complicated questions about water flow and jammed thermo-stats and diameter of access of telephone wires is being addressed in every language but not the basic common sense small questions.

This report seems to brand all concerned - adults in the party included - unobservant culprits whose lack of common sense questioning allowed visibly defective equipment to stay in place, thus leading to the death of the innocents.
Crazy Law in re Tour Operators ~ How come Tour Experience is coming up with such shrewd reportage of the gassing and who're they anyway to be whupping everyone else's ass on the case?
I was going to summarise their best points but the whole article is best points so let me just save you clicking:
"Unfortunate that at least one major news org has changed Richard and Nicola's job title from Holiday Rep to Health and Safety Inspector. Bit like calling a student w/ Saturday job in Clark's a Podiatrist
Wood [the mother] was clearly briefed by her lawyers to come out with the emotive statements she did, yet it does highlight how crazy the law is in relation to tour operators.
So Thomas Cook are responsible for the safety in a property they don't own or run?

Strictly speaking, under the EC Package Travel Directive of 1993, the operator is legally responsible for the components of the package.
However, how can an operator be responsible for safety at a property when it has no control over staff employed, maintenance carried out and in most instances is probably not even informed of any reported problems.

You could argue that all the above could be covered in the fine detail of contracts, but these are the same contracts that allow operators to counter-claim for any liabilities.
If the EC directive was more specific and more realistic, both sides would have less opportunities to abdicate their responsibilities and the consumer would be offered real protection.
Whew - thorough stuff. I look forward to TourExpi's take on the April 21 resumption of this tragi-farce.